Hundreds of migrants have been protesting outside a major railway station in the Hungarian capital after police sealed off the terminal to stop them travelling through the EU.
Crowds of people chanted "Germany" and waved train tickets after being forced to leave Keleti station in Budapest.
Hungary is trying to restore order and enforce EU rules, officials said.
Meanwhile, German Chancellor Angela Merkel has called for the fair distribution of refugees across Europe.
Austrian police said 3,650 migrants arrived in the Austrian capital, Vienna, from Hungary on Monday, with most heading for Germany.
Hungarian officials had earlier appeared to abandon efforts to register them under EU rules, which say they should seek asylum in the first EU country they enter, correspondents say.
Chaotic scenes
About 1,000 migrants congregated outside Keleti station, in the east of the city, as it was evacuated on Tuesday.
It was closed briefly and public announcements said no trains would be leaving.
But it soon reopened to non-migrant passengers, with lines of police preventing migrants from going through the main entrance.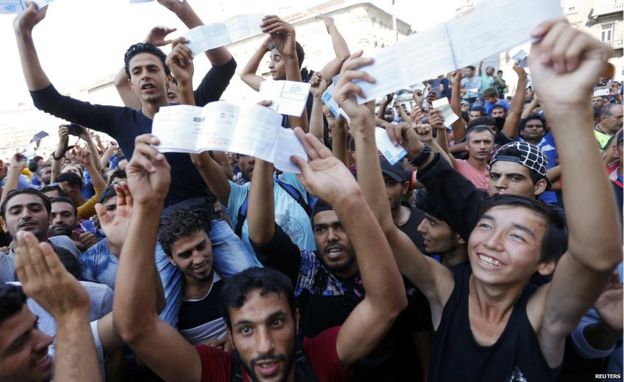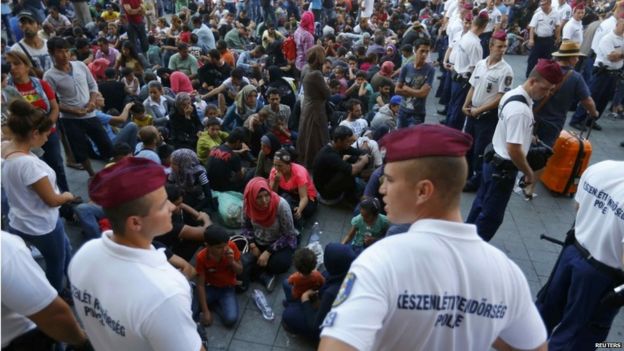 The move came amid chaotic scenes after hundreds of migrants had tried to board services to Austria and Germany.
Some complained that they had paid hundreds of euros for tickets, and called for the station to be reopened so that they could continue their journey.
Many of the migrants have been waiting at Keleti station for days. Reporters said they are mainly Syrians, Afghans and Eritreans.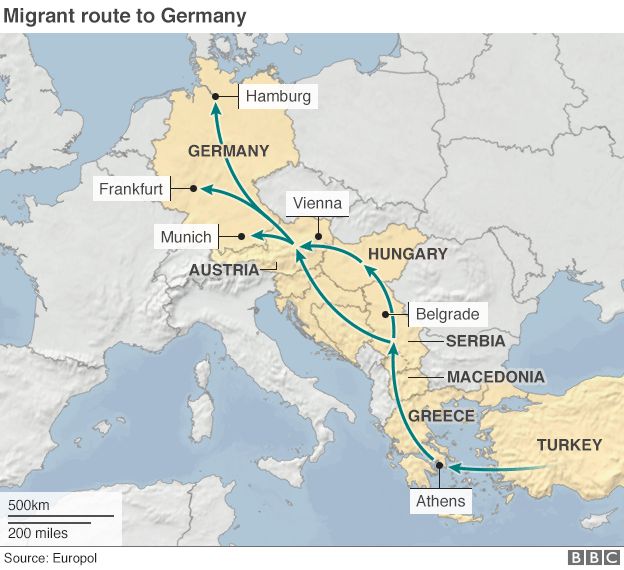 The number of migrants entering Europe has reached record levels, with 107,500 arriving in July alone.
Germany expects to take in 800,000 migrants this year – four times last year's total.
'Ad hoc approach'
Under the EU's Dublin Regulation, asylum seekers must register in the first EU member state in which they arrive. However, the protocol has been widely abused, as many of those who reached Hungary first arrived in Greece, where they failed to claim asylum.
Some 1,400 people had arrived in Munich, southern Germany, by Tuesday morning, after travelling through Austria, and more were due.
After talks with the Spanish prime minister on Tuesday, the German chancellor repeated calls for a unified approach to the crisis.
Mrs Merkel said she had agreed with PM Mariano Rajoy on the need for registration centres to be set up in Italy and Greece with European co-operation.
Meanwhile Babar Baloch, Central Europe spokesman for the UN's refugee agency,criticised "Europe's ad hoc approach" to the crisis, saying it had led to "more desperation at Budapest train station".
The risks for migrants travelling through Europe were highlighted last week by the deaths of 71 people, who were found in a lorry that had travelled to Austria from Budapest.
Most of the dead were thought to be Syrians fleeing the country's civil war.
Hundreds more people drowned in the Mediterranean last week while trying to reach Europe from Libya.
---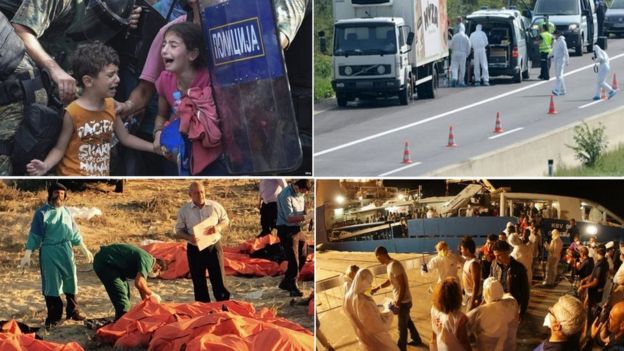 View the original content and more from this author here: http://www.bbc.co.uk/news/world-europe-34113471